Prof. Børge G. Nordestgaard, MD, DMSc
Home » Archive » 2nd Cardionale 2011 » Speakers » Prof. Børge G. Nordestgaard, MD, DMSc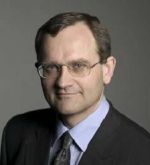 Chief Physician in Clinical Biochemistry at Copenhagen University Hospital, Professor in Genetic Epidemiology at University of Copenhagen
In 1985 he graduated as a medical doctor from University of Copenhagen. Scientific education included 2 years with Professor Steen Stender at Copenhagen University Hospital in Denmark, 2 years with Professor Donald Zilversmit at Cornell University in Ithaca, New York, and 2 years with Professor Barry Lewis at St. Thomas's Hospital in London, UK.
In 1990 he was awarded Doctor of Medical Sciences by University of Copenhagen and in 1996 Specialist in Clinical Biochemistry by the Danish Board of Health. Clinical training included hyperlipidemia, surgical gastroenterology, cardiology, and clinical biochemistry.
As a specialist in clinical biochemistry he has continued his interest in the treatment of hyperlipidemia, and has written several chapters on these conditions in medical textbooks.
In 1988–97 he acted as an Executive Committee member and in 1993–1997 as chairman of the Scandinavian Society for Atherosclerosis Research. In addition, in 1998–01 he was an Executive Committee member of the European Atherosclerosis Society and in 1999–02 an Executive Scientific Committee member of the European Society of Cardiology. He has organised or co-organised 8 Scandinavian and 6 European conferences, mainly on atherosclerosis research.
He is chairing the Copenhagen General Population Study and is also a steering committee member of the Copenhagen City Heart Study, the LIFE Genetic Sub-study, the JUPITER trial, and the High Risk Plaque Initiative.
He has supervised 33 PhD students and 17 post doctoral fellows, and has published about 250 original articles and reviews.
News
30th - 31st October 2015
Summary, lectures, archive
Live streaming and an online archive of the International Postgraduate Schools