Prof. Hana Rosolová, MD, PhD, DSc (CZ)
Home » Archive » 3rd Cardionale 2012 » Speakers » Prof. Hana Rosolová, MD, PhD, DSc (CZ)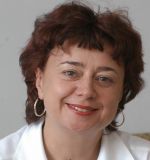 Academic training:
1982 First degree specialization in internal medicine
1988 Second degree specialization in internal medicine
1991 Nordic School of Public Health – Gothenburg (10-day Teaching Seminar of ISFC)
1992 Degree Ass. Prof. in internal medicine
1993 Stanford University, California, USA – Training in the Clinical Research Center – Prof. G.M. Reaven
1999 Degree Ph.D.
2005 Specialization in Cardiology
2004 Professor of internal medicine
2005 Doctor of Scienciarum (DrSc.)
Experience in medical practice:
1979 – 1985 Sanatorium of TB and Respiratory Disease.
Since 1985 2nd Department of Internal Diseases, Faculty Hospital, Charles University Prague – Medical Faculty in Pilsen, head of the ward (1989–2004)
since 2001 head of the Center of Preventive Cardiology
Teaching experience:
Pre-gradual and postgradual teaching of internal medicine and preventive cardiology
English speaking students of Medical Faculty
Research teaching for Ph.D.
Research:
Preventive cardiology.
Participation in more than 10 granted research programes (IGA-Ministry of Health, GACR).
International studies: EUROASPIRE I, II, III.
European Heart Failure Study – Diabetes and the heart, pharmacological studies: SPARCL, EUROPA, RUTH, HOPE 3 etc.
Membership in the nucleus of medical societies:
Czech Society of Cardiology
Czech Society of Hypertension
Czech Society of Atherosclerosis
Director of the Czech Institute of Metabolic Syndrome, non-profit society
Fellow of the ESC (FESC) and Clinical Hypertension Specialist of the ESH
Editorial board of medical journals:
Europ Heart J (1999–2003), Farmakoterapie, Vnitřní lékařství, Kardiologická revue, Cor et Vasa, EPMA Journal
Publications:
8 monographies
130 original papers
about 200 synoptic articles
450 abstracts
News
30th - 31st October 2015
Summary, lectures, archive
Live streaming and an online archive of the International Postgraduate Schools