Prof. Ivan Rychlík, MD, PhD (CZ)
Home » Archive » 3rd Cardionale 2012 » Speakers » Prof. Ivan Rychlík, MD, PhD (CZ)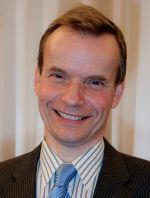 Prof. Rychlík graduated (M.D.) in 1987, Summa cum Laude, Charles University, Prague, Czech Republic. Further he graduated in Internal Medicine in 1994 and in Nephrology in 1996. In 1998–1999 he passed one-year Fellowship Award of ISN in Heidelberg, tutor Professor E. Ritz. In 2001 he defended his Ph.D. (Charles University, Prague).
Since 1995 he has been active in pre- and postgraduation teaching, he habilitated as Associate Professor in 2004 and Full Professor of Medicine in 2011 (Charles University, Prague).
Since 1987 up today he has been employed in Charles University in Prague (starting as clinical associate, followed as a staff member, senior staff member, clinical nephrologist, head nephrologist, and currently since 2002 as a consultant-nephrologist, 3rd Fac.Medicine) and since 2005 he has been working as a Head of Dialysis Center, Fresenius Medical Care, Faculty Hospital Vinohrady, Prague.
He is an active member of several Societies: Czech Society of Nephrology (CSN), ERA-EDTA, ISN, ASN, EUVAS, ECNA (European CardioNephrology Assoc., founding member) and he has numerous organizing activities: co-founder of the Czech Junior nephrologists Club (1991), co-founder of the Czech Registry of Renal Biopsies (1993), co-founder of the Czech Registry of Dialysed Patients (2006), organizer of several Workshop of ERA/EDTA (1997, 1998), and numerous Czech nephrological meetings, particularly Secretary (2006) and President (2008) of the Congress of CSN. Furthermore, he served as Secretary of ISBP Congress (2007) and Secretary of 48th ERA-EDTA Congress (2011).
He served as Scientific Secretary (2004–06), President (2006–08), President-elect (2012–2014) of the Czech Society of Nephrology. He was voted and served as Ordinary Council Member of ERA-EDTA (2008–11) Currently he serves as a Secretary of CME Committee of ERA-EDTA and he is a member of GO Committee of ISN for Eastern European Countries.
He is a Managing Editor of Case Reports in Nephrology and Urology, a member of editorial boards of Kidney Blood Pressure Research and several Czech medical journals (most important: Editor of the Czech version of Current Opinion in Hypertension and Nephrology). Furthermore, he is an active reviewer of several international journals (particularly NDT and KBPR).
He was a Principal investigator of three scientific Czech grants (IGA MH) and Co-investigator of three EU grants (QUEST, PREDICTIONS, PRIORITY), and other 8 Czech grants. Furthermore, he worked as principal or national investigator of several trials, mostly in the field of diabetic nephropathy (TREAT, SHARP, GFRF study, VIVALDI, PA-CL05, etc.)
He was awarded by Year Award of Czech Medical Society for Best monograph (1994), Award of ERA-EDTA for outstanding scientific presentation (Madrid, 1999), Jan Brod Award for the best publication in Nephrology (2000), Award of the CSN for the best publication (2005) and ISBP Best Abstract Award (Brijuni, 2008).
Always during his carrier he was an active researcher. He is an (co-)author of 175 scientific articles (indexed in Medline), 6 monographs (1× Oxford University Press) and 12 chapters. He presented more than 250 papers in international meetings, his current SCI is 650 and H-index 11.
His current main scientific interests are epidemiology of renal diseases, diabetic nephropathy and CVD in diabetic patients on dialysis treatment.
News
30th - 31st October 2015
Summary, lectures, archive
Live streaming and an online archive of the International Postgraduate Schools