Prof. Andrey Susekov, MD (RU)
Home » Archive » 4th Cardionale 2014 » Speakers » Prof. Andrey Susekov, MD (RU)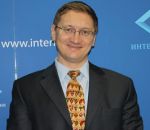 Andrey V Susekov works as a Leading Research Fellow, Associate Professor and Head, Lipid Research Laboratory at Cardiology Research Complex, Moscow
Dr. A Susekov graduated from Tomsk Medical Institute in 1986, West Siberia, Russia and rotated in Clinical Cardiology, All-Union Cardiology Research Center (CRC) in 1986–89. Dr Susekov completed his Ph.D. thesis " Lp(a)-apheresis in CHD patients"(1989). In 1993–94 he studied clinical lipidology in the Hammersmith Hospital, London, UK. His doctoral thesis (CRC, Moscow, 2007) was dedicated optimization of statin therapy in CHD patients. In 2002 Dr Andrey Susekov had training on lipids in Royal Perth Hospital, Western Australia.
His research interest focused on effects of statins on carotid atherosclerosis, management of FH patients and implementation of lipid guidelines into clinical practice. Dr A Susekov performed several local trials with statins (MSS , ESCAPE, ESCADRA, FARVATER, FREGAT) and took an active part as PI and/or National Coordinator in > 30 international lipid studies ( ORIGIN, SATURN, EVOLVE-I, II; REDUCE-IT, FOURIER et al).
Dr A Susekov was involved in writing of National Lipid Guidelines (2004–2012) and International Lipid Guidelines (IAS Position Paper,2013; IFHF Guidelines,2014). Over the past 20 years Dr A. Susekov was an active lecturer in the field of dyslipidaemia and atherosclerosis in Russia and in many CIS countries. He is an author of a popular "Virtual Lipid Clinic" in the www.internist.ru. Dr A Susekov is an experienced clinical lipidologist and Head of a large Lipid Clinic in CRC, Moscow. He is author and co-author > 200 papers published in peer-review russian and international journals (Current Opinion in Lipidology, Atherosclerosis, J. Clin. Lipidology et al), author of several book chapters and 2 monographs. Dr A.Susekov is a member several International Atherosclerosis Advisory Boards, member of RNAS, EAS, IAS, NLA, ACC and AHA.
News
30th - 31st October 2015
Summary, lectures, archive
Live streaming and an online archive of the International Postgraduate Schools