Prof. Renata Cífková, MD, PhD (CZ)
Home » Archive » 4th Cardionale 2014 » Speakers » Prof. Renata Cífková, MD, PhD (CZ)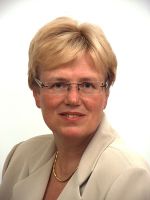 Center for Cardiovascular Prevention, First Faculty of Medicine and Thomayer Hospital, Prague, Czech Republic
Renata Cifkova completed her medical education at Charles University in Prague and in 1986 earned a PhD in internal medicine with special emphasis on cardiology.
In 1992, Dr. Cifkova was appointed Head, Department of Preventive Cardiology, Institute Clinical Experimental Medicine, Prague, in the Czech Republic. She also has a part-time appointment with the Charles University Medical School in Prague (Professor of Medicine). Previously she has held positions as Assistant Professor in the Institute of Postgraduate Medical Education, Dept of Cardiology, Prague, Czech Republic and has also been a Postdoctoral Fellow at the Faculty of Medicine, Memorial University, St. John's, Newfoundland, Canada. Her main research interests are epidemiology of cardiovascular risk factors, primary and secondary prevention of cardiovascular disease, and clinical trials in this field.
In 1999, she was Honorary Visiting Professor, Mayo Clinic, Rochester, Minnesota, USA. She received the Prusík Prize of the Czech Society of Angiology three times (in 2001, 2005, and 2010). For her outstanding contribution to research, education, and leadership in the fields of hypertension and cardiovascular protection, Prof. Cifkova was conferred the Peter Sleight Award by the European Society of Hypertension in 2009. More recently, her research was acknowledged by the Czech Ministry of Health (2010), she is also the recipient of the Public Award for Medical Research (2011).
She is currently on the editorial boards of Journal of Human Hypertension, Kidney and Blood Pressure Research, Blood Pressure, and European Journal of Cardiovascular Prevention and Rehabilitation. Along with all her responsibilities, she is a member of many national and international professional societies, namely:
• Czech Purkyně Medical Society
• Czech Society of Cardiology – Past-¬Chair of the Working Group of Preventive Cardiology
• Czech Society of Angiology
• Czech Society of Hypertension – Founding President
• Czech Atherosclerosis Society – board member
• International Society and Federation of Cardiology
• International Society of Hypertension
• European Society of Hypertension – Educational Activities Committee Secretary
• Member of the Second, Third, Fourth, and Fifth Joint Task Forces of the European Society of Cardiology, European Atherosclerosis Society and European Society of Hypertension on prevention of coronary heart (cardiovascular) disease in clinical practice
• Member of the Task Force for the ESC Guidelines for the Management of Cardiovascular Diseases during Pregnancy (version 2011)
• Member of the ESH/ESC Task Force for Joint Guidelines for the Management of Arterial Hypertension (version 2013)
• Vice-Chair of the European Society of Cardiology Council on Hypertension
News
30th - 31st October 2015
Summary, lectures, archive
Live streaming and an online archive of the International Postgraduate Schools