Prof. R. Curtis Ellison MD (US)
Home » Speakers » Prof. R. Curtis Ellison MD (US)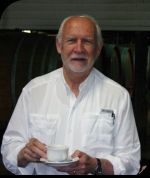 R. Curtis Ellison, MD, MS (Epidemiology) has been Professor of Medicine and Public Health at Boston University School of Medicine since 1989, and is the former Chief of the Evans Section of Preventive Medicine and Epidemiology. He holds degrees from Davidson College, the Medical University of South Carolina, and Harvard School of Public Health.
With training in internal medicine, cardiology, and epidemiology, Professor Ellison serves as a senior investigator in The Framingham Heart Study, and has been the principal investigator of a number of research studies on genetic and environmental risk factors for cardiovascular diseases.
Professor Ellison is best known for his work on the so-called "French Paradox," the much lower risk of coronary disease among the French despite levels of typical risk factors that are even higher than those of Americans. One of the important lifestyle factors associated with this difference is the regular consumption of wine with meals. Professor Ellison and Professor Serge Renaud of Lyon, France, were the key scientists who were a part of the program on this topic that appeared on the American television program, 60 Minutes, in November, 1991. This was the first time that the American public heard about the potential health benefits of wine, and led to an immediate 40% increase in wine consumption in the US. Since then, total alcohol intake has decreased in the US, but the proportion of the population consuming wine continues to increase.
In 2010, Dr. Ellison was a co-founder and is the Scientific Co-Director of the International Scientific Forum on Alcohol Research. The Forum consists of 45 international scientists working in alcohol and health who volunteer their services to provide critical assessments of emerging research related to the moderate use of alcohol. Forum critiques are published regularly on the web-site, www.bu.edu/alcohol-forum
News
30th - 31st October 2015
Summary, lectures, archive
Live streaming and an online archive of the International Postgraduate Schools